Door Frame Roll Forming Machine
​This Door Frame Roll Forming Machine not only has high production efficiency and material saving, but also has high product strength and stable quality.
Description
Product Introduction
This Door Frame Roll Forming Machine not only has high production efficiency and material saving, but also has high product strength and stable quality. It is convenient and easy to replace multiple molds. The equipament minimizes the internal stress when cutting the plate and avoids tin cracking. Moulds of various shapes are available upon request. Our Door Frame Roll Forming Machine has the advantages of good performance, strong adaptability, easy maintenance, small size and light weight. If you have any questions, please feel free to contact with us!
Technical Parameters
NO
Item
Parameters
Remark
1
Suitable material
Type
Galvanized sheet
Thickness (mm)
0.8-1.2mm
Grade
235Mpa
Coil Width (mm)
247mm
2
Producing Speed (m/min)
Variable 18-25 m/min
Including cutting & punching time
3
Roll former Main Motor Power (KW)
11Kw
4
Hydraulic station power for punching and cutting (KW)
22Kw
5
Leveling motor power (KW)
3kw
6
Decoiler hydraulic power (KW)
2Kw
7
Servo feeding motor power (KW)
2.2 kw
8
Servo flying shear motor power
2.2 kw
9
Hydraulic cutting power (KW)
11kw
10
Total power
53kw 380V 50HZ 3phase
Power source according to client's final confirmation
Equipment List
| | | |
| --- | --- | --- |
| Name | Model/Name | Quantity |
| 1 | 5 Ton Hydraulic dual head Un-coiler | 1 set |
| 2. | Leveling device | 1 set |
| 3 | Loop unit | 2 sets |
| 4 | Feeder | 1 set |
| 5 | Punching equipment | 1 set |
| 6 | Straitening | 1 set |
| 7 | Roll Forming equipment | 1 set |
| 8 | Straighter | 1 set |
| 9 | Post-cutting device | 1 set |
| 10 | Rack | 1 set |
| 11 | Hydraulic system | 2 sets |
| 12 | Electrical system | 1 set |
Working Process
De-coiling → Leveling → Guiding system → Puncher → Straitening → Roll forming → Straighter → Cut to length → Run out Table
Profile Drawing
According with different client requirements. We can make customized mode roll forming line.
Machine Layout

Description of All Components:
A) 5 Ton Dual-Head Hydraulic Decoiler
1. Function and components
| | | | | | | |
| --- | --- | --- | --- | --- | --- | --- |
| Structure | Decoiler type | Expanding type | Press Arm | Coil car | Hydraulic system | Electric control system |
| Dual head type | Motor/passive | Hydraulic | No | No | Shared | Shared |
2. Parameters
Max loading capacity 5- Ton Suitable coil ID φ508mm. Suitable material width (max.) 300mm. Suitable coil OD (max.) ≤Ø2000mm
3. Main structure type and features
Un-coiler frame with a heavy duty tube and 16Mn heavy duty plate welding structure with shot blasting treatment. By using hydraulic power to realize the function of expanding or decrease the inner diameter of de-coiler, and finally realizing the function of tightening the coil. Hydraulic Motor drives the de-coiler mandrel for rotating, and realize the active decoiler function.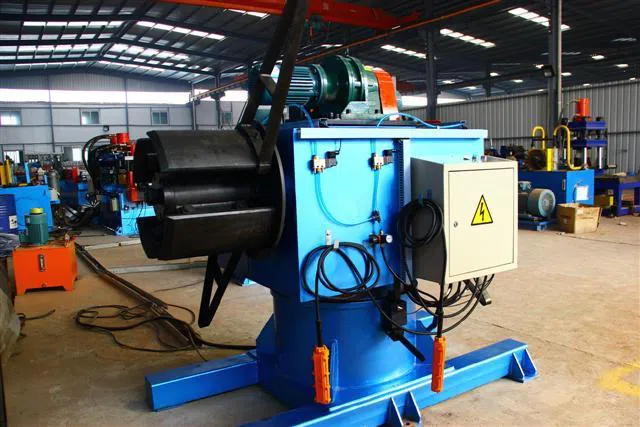 Put the steel coil to the middle part of the mandrel by lifting machine; let the hydraulic cylinder to tighten the coil. While the machine is started, the hydraulic motor will drive the mandrel at first, then the steel sheet will be released, take the sheet to the leveling rolls and it will move automatically while the rollers run. The entire steel coil will tighten the sheet by its braking resistance
F) High-Speed Punching Equipment
Punching station was used to complete six different hole punching. Punching die uses modular structure, adjustable width, the punch may need to select a different mold. Easy to adjust; move fast, and easy maintenance. The hydraulic system developed specifically for the punching machine, the hydraulic station consists of pump, accumulator and other control methods, use special hydraulic control module, with a blanking speed, low noise characteristics, and high-power air-cooled chiller to meet the needs of continuous production. Punching dies: adjustable dies, long service life, replacement and easy maintenance.
5) Punch capacity
| | |
| --- | --- |
| Mitre punch1 | AB 47 T |
| Miture punch2 | BA 47 T |
| Punch 3 | "LOCK SLOT" 15T |
| Punch 4 | "HINGE SLOT" 12T |
| Punch 5 | "SPREADER SLOTS 15*3" 2T |
| Material | Cr12MoV, hardness HRC58-62 |
Please note: the requested spreader slots is only 15*1 and 20*1, it will cause fracture of punching die, so we suggest to make 15*3
We need to change the spreader slots to all same dimension of 15×3 to save one set of punching die, and to ensure the durability of punching die.
The punching speed is 70 times/min
Roll shaft use 40Cr steel, the stands using column type. Column stand is specially made by forged steel not fabricated, to assure good accuracy. Driven by reducer motor, and chains, part of rolls is driven by gears. Able change the gap between two rolls to accommodate different thickness material. The tolerance of final product will change according to the thickness and yield strength of raw material.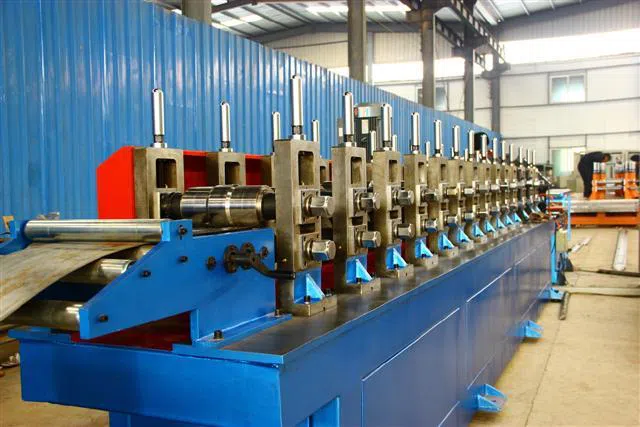 Our service:
Our engineering team can design special machine for you to overcome the difficulties. Most of products are in stock. Because the clustering of supply chain and our high production efficiency, even the special request item have better lead time than any other place. Our product have higher quality not only because we have better production management, but also we insist to use high quality material and we don't steal from it.
You Might Also Like